The leaves are starting to fall and the temperature is dropping in most parts of the country. My family and I always love a nice, warm fire in our fireplace during the cold weather months. When my family was in the market for buying a new home, one of the must have items was a large brick fireplace.

There are many different types of fireplaces – electric, gas, wood burning – but I'd like to talk about the wood burning type of fireplace. Before purchasing my current home, I had it inspected, including the fireplace and chimney, by a certified home inspector. Some homeowners may not be aware of the exposures associated with fireplaces and chimneys until it's too late and becomes a very costly repair. A good friend of mine purchased a home a few years ago and he chose not to have the home inspected. When he lit a fire in the fireplace, he smelled a strong smoke smell in his attic and throughout his home. The brick chimney was cracked inside the attic area allowing smoke to be released inside the home – something that would have likely been noticed in a home inspection.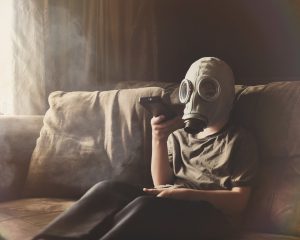 Another exposure associated with fireplaces and chimneys is creosote buildup. Creosote is the portion of chemical products that builds up as a black oily residue inside your chimney1. When wood doesn't burn completely, it produces soot and tarry smoke. Burning wood at low temperatures will cause incomplete combustion of the oils in the wood. As the smoke rises through the chimney, it causes condensation on the interior surfaces of the chimney flue.
When creosote is also present, it reduces airflow through the chimney. Since creosote is highly combustible, if it comes in contact with hot oxygen in the chimney, it could ignite causing a chimney fire. Chimney fires often spread to the main structure because the chimney gets so hot that it ignites any combustible material in direct contact with it, such as wood. Most residences are frame construction, which is highly combustible material.
To help you avoid the risk of a chimney fire, here are ten tips for wood-burning fireplace maintenance courtesy of DIY Network2:
Have your wood burning fireplace inspected and cleaned by a professional chimney sweep at least once a year and more often if creosote builds up on the chimney walls rapidly.  Depending on where you live, this can cost anywhere from $100 to $200.
Between professional inspections and cleanings, monitor your wood burning fireplace for signs of buildup or other problems.
Your chimney has a cap with open sides usually covered with mesh to keep rain, birds, squirrels, other animals, and debris from entering the chimney. The cap should be inspected regularly and replaced when necessary.
Check the interior of your wood burning fireplace's chimney for creosote buildup.
Also watch for soot buildup in the chimney of your wood burning fireplace. Soot is softer than creosote, flammable, and should be cleaned out of the chimney regularly.
If possible, burn hardwoods like maple, oak, ash, and birch. The advantages of hardwoods are that they burn hot and long, have less pitch and sap, and tend to cause less creosote buildup. On the other hand, they generally are more expensive than softwoods.
Anytime there is smoke indoors from your wood burning fireplace, troubleshoot and immediately correct any problems that you find. Possible causes of smoke are a dirty chimney with creosote or soot buildup, other debris in the chimney, a damper that isn't open or is only partly open, or wood that is not burning completely.
To ensure wood burning fireplace safety, consider installing a stainless steel liner that will withstand even the highest temperatures and will keep the fire and its embers contained.
To improve your wood burning fireplace's efficiency, consider installing heat-proof glass doors to protect against heat loss and a fan or blower to direct the heat into the room. Doors are also a safety feature, since they can keep live embers from escaping the fireplace into the interior of the home. Glass doors should be cleaned regularly with a paper towel and glass fireplace door cleaner.
Clean your wood burning fireplace's interior, including its floor, regularly. Sweep out or vacuum up cold ashes. Wear a dust mask and gloves when cleaning the fireplace.
There can be many advantages to a wood burning fireplace, including saving money on heating costs and supplementing your main source of heat. At the same time, maintenance and service of your fireplace is of utmost importance.
Post authored by Chad Ellis. Originally published November 26, 2013. View original post at: http://wp.me/p1Iv7E-V0
1http://en.wikipedia.org/wiki/Creosote
2http://www.diynetwork.com/home-improvement/10-tips-for-maintaining-a-wood-burning-fireplace/index.html
Products underwritten by Central Mutual Insurance Company and affiliated companies.
Copyright © 2016 Central Mutual Insurance Company. All rights reserved.
Without risk, there are no rewards.But when taking risks, it's important to ask "is it worth it?" Most of us are not good at evaluating risk. That's why I love insurance. When you get it, you realize that you have a tool for making choices. We can put ourselves out there, enjoy life and strive for personal and financial growth. When we fail, insurance gives us a way to recover financially, and we learn to be better. I'm a lifelong student with degrees in mathematics and computer science, a licensed insurance producer, and hold professional insurance designations including CPCU, CIC, and CRM.I enjoy distance running, bicycling, craft beers, cool people, and taking risks.
Latest posts by Robert H. Bourdeau (see all)