Adapting
We're all getting used to living a little differently given the current circumstance resulting from COVID-19. Our company is fully operational and open for business. Most of our employees are now working from home and we've taken every precaution to keep our employees and customers as safe as possible. Our physical office doors may be closed to customers, but our phone lines, email, social media, and website are all readily available. Now more than ever, it's going to be important for our customers  to take advantage of the self-service options provided by our companies.
Self-Service Options
You can pay bills, submit a claim, get proof of insurance and policy documents, manage roadside assistance coverage, make policy changes, and get text alerts. See the reference forms and company links for both personal and commercial lines below. Many of our companies also have mobile apps you can download on your smartphone or tablet. In no way are we telling you not to call us. In fact, we'd love to hear from you! However, if you just need a proof of insurance or to make a payment, try going to your company's website to get what you need. Using your company's self-service option is going to be the best way to get what you need as soon as possible. We've all had to adapt to the changes around us, and we're just letting you know that there are some great options to help you out.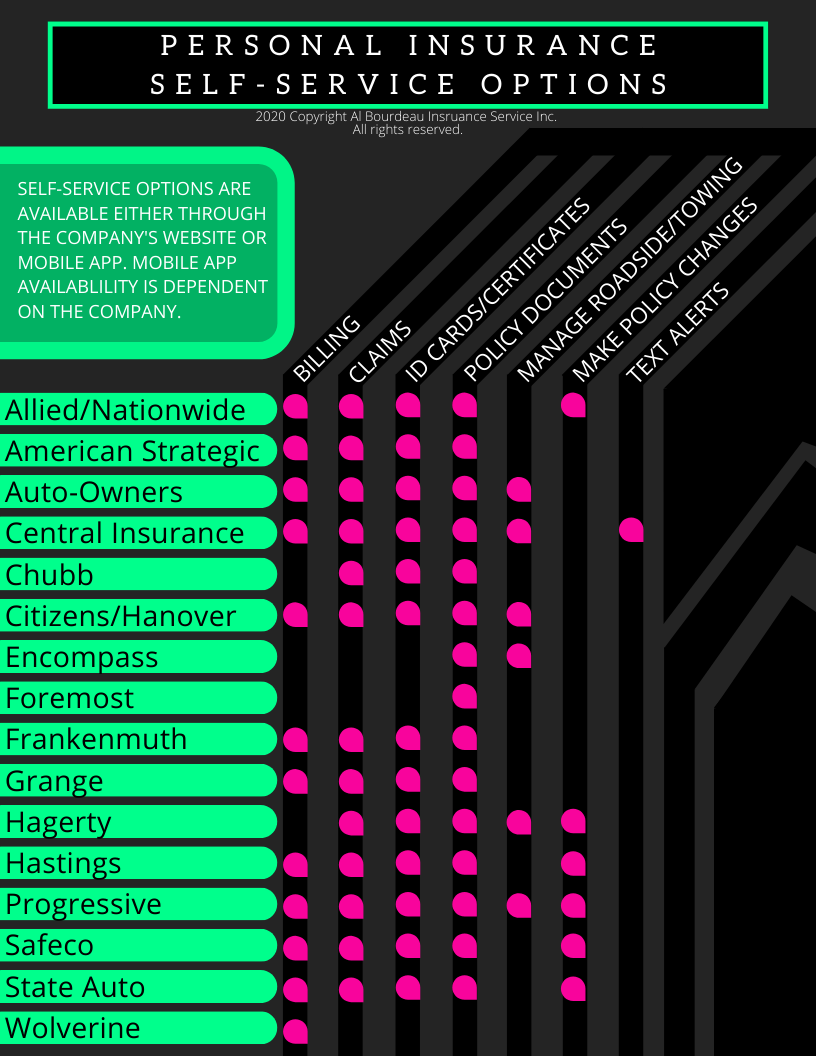 Here's a link to our Personal Lines company websites:
Allied/Nationwide: https://www.nationwide.com/
American Strategic: https://www.americanstrategic.com/
Auto-Owners: https://www.auto-owners.com/
Central Insurance: https://www.central-insurance.com/
Chubb: https://www.chubb.com/us-en/
Citizens/Hanover: https://www.hanover.com/
Encompass: https://encompass.insurance/
Foremost: https://www.foremost.com/
Frankenmuth: https://www.fmins.com/
Grange: https://www.grangeinsurance.com/
Hagerty: https://www.hagerty.com/
Hastings: https://www.hastingsmutual.com/
Progressive: https://www.progressive.com/agent/
Safeco: https://www.safeco.com/
State Auto: https://www.stateauto.com/
Wolverine: https://www.wolverinemutual.com/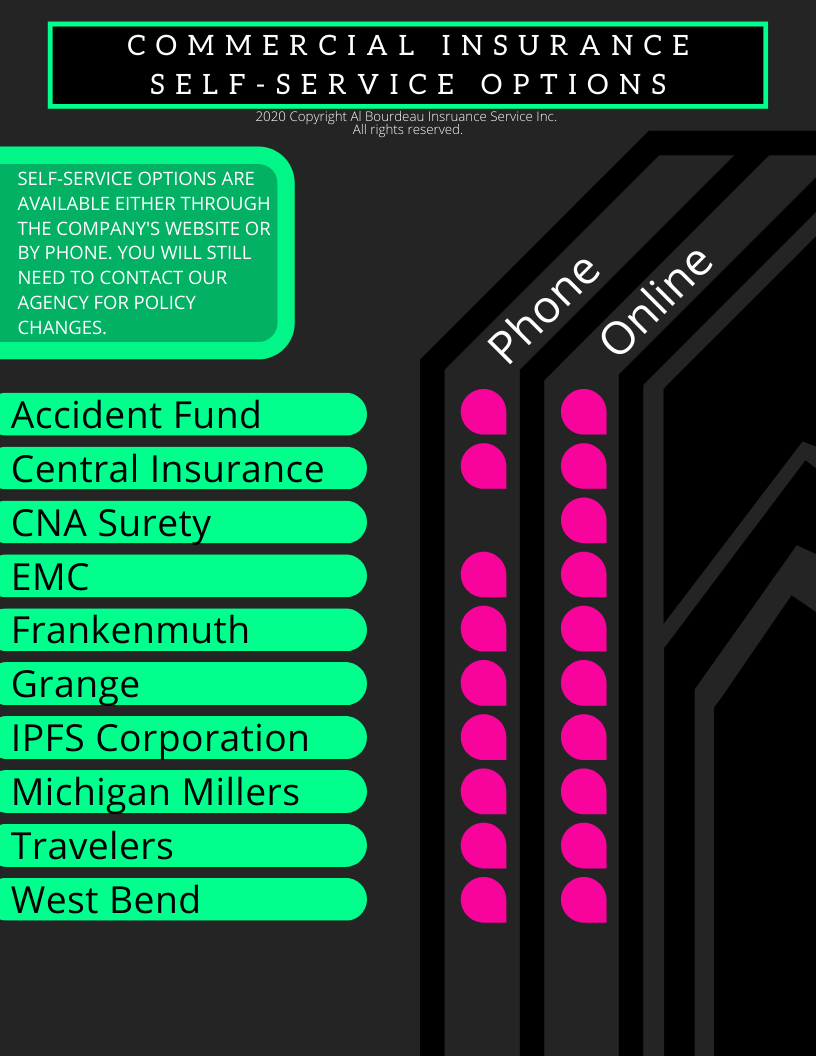 Here's a link to our Commercial Insurance company websites:
Accident Fund: https://www.accidentfund.com/
Central Insurance: https://www.central-insurance.com/
CNA Surety: https://www.cnasurety.com/cna/guest/cnasurety/
EMC: https://www.emcins.com/index.aspx
Frankenmuth: https://www.fmins.com/
Grange: https://www.grangeinsurance.com/
IPFS Corporation: https://www.ipfs.com/for-business-owners
Michigan Millers: https://www.mimillers.com/
Travelers: https://www.travelers.com/business-insurance
West Bend: https://www.thesilverlining.com/
Final Thoughts
If you have any questions regarding self-service options please give us a call at 800-644-6030. We'll be happy to help you get started. We appreciate your patience and willingness to adapt as we strive to provide the best possible service to all of our customers. As a small business, we'd also like to invite you to tell your friends and family about our agency. With so many people looking for ways to save money, we'd love to help everyone we can get the best rates and coverage possible. During this time, supporting local businesses is going to be crucial to keep our economy healthy, our employees…employed, and our business strong for the future. Plus, we'll send you $10 for every referral you send us. If we quote 10 of your friends that's $100 in your pocket! We know that everyone has a lot going on and insurance is probably one of the last things anyone wants to think about right now. However, this is the time to pull together, to help one another, and to come out of this stronger than we were before. We're all in this together!
Without risk, there are no rewards.But when taking risks, it's important to ask "is it worth it?" Most of us are not good at evaluating risk. That's why I love insurance. When you get it, you realize that you have a tool for making choices. We can put ourselves out there, enjoy life and strive for personal and financial growth. When we fail, insurance gives us a way to recover financially, and we learn to be better. I'm a lifelong student with degrees in mathematics and computer science, a licensed insurance producer, and hold professional insurance designations including CPCU, CIC, and CRM.I enjoy distance running, bicycling, craft beers, cool people, and taking risks.
Latest posts by Robert H. Bourdeau (see all)